Vila Severka
Great location near the central street
Parking

room with a toilet

Room with sanitary facilities

TV

Internet

Baby friendly
Description
| | |
| --- | --- |
| Parking: | Not secure, paid |
| room with a toilet: | room with a toilet |
| Room with sanitary facilities: | Room with sanitary facilities |
| | |
| --- | --- |
| TV: | TV in room |
| Internet: | Internet in room |
Location
Stylish apartment villa Severka is located in Novy Smokovec, about 5 min. walk from the funicular station and 10 min. walking from the stop of the Tatra Tram.
accommodation
The apartment villa offers accommodation in 6 stylish suites of different sizes. The apartments are furnished very tastefully and purposefully.
All apartments in the villa are equipped with:
- own bathroom (bathroom and toilet),
- fully equipped kitchen with electric stove,
- refrigerator, dishwasher, microwave and kettle,
- LCD TV / SAT,
- a fixed internet connection,
- Your own automatic heating system
- minibar
apartment Severka:
Cozy, spacious and bright one-room apartment with an area of 40 m2 for 2 - 4 people with a fully equipped separate kitchen and a spacious bathroom, on the ground floor, south-facing.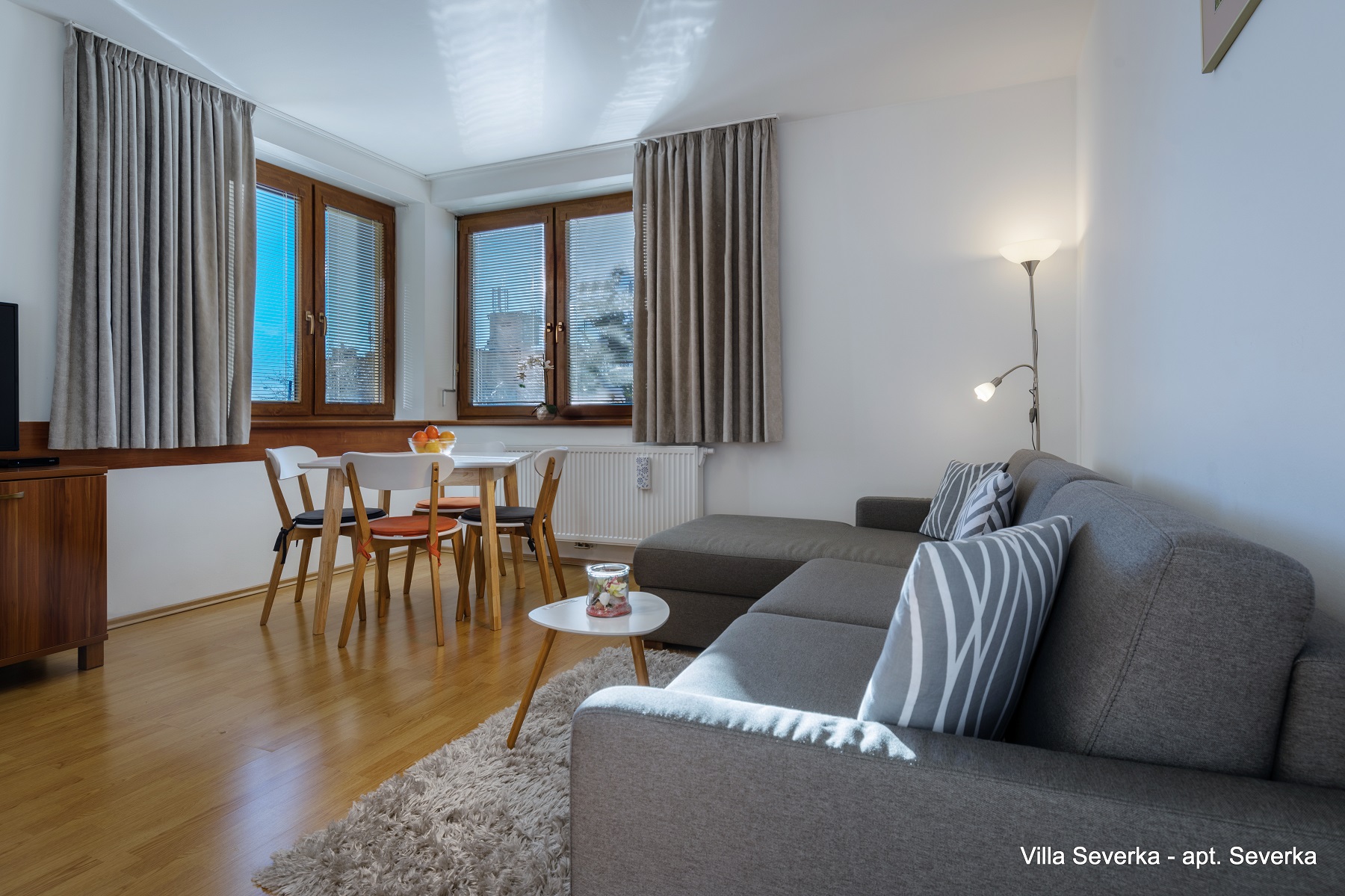 apartment Gerlach:
Spacious two-room apartment with an area of 61 square meters for 4 people with one extra bed with fully equipped kitchen and generous bathroom, on the ground floor, with a western orientation to the garden, with a beautiful view of the Tatra peaks.



apartment Exclusiv:
Accommodation in a 2-bed apartment with 1 extra bed. Located on the first floor, facing west, overlooking the High Tatras. Separate bedroom, living room with balcony balcony, full kitchen and bathroom, with an area of 65 m2.

apartment Polianka:
3-bed apartment on the 1st floor, 42 m2, south-facing with living room, kitchen, bathroom and large terrace.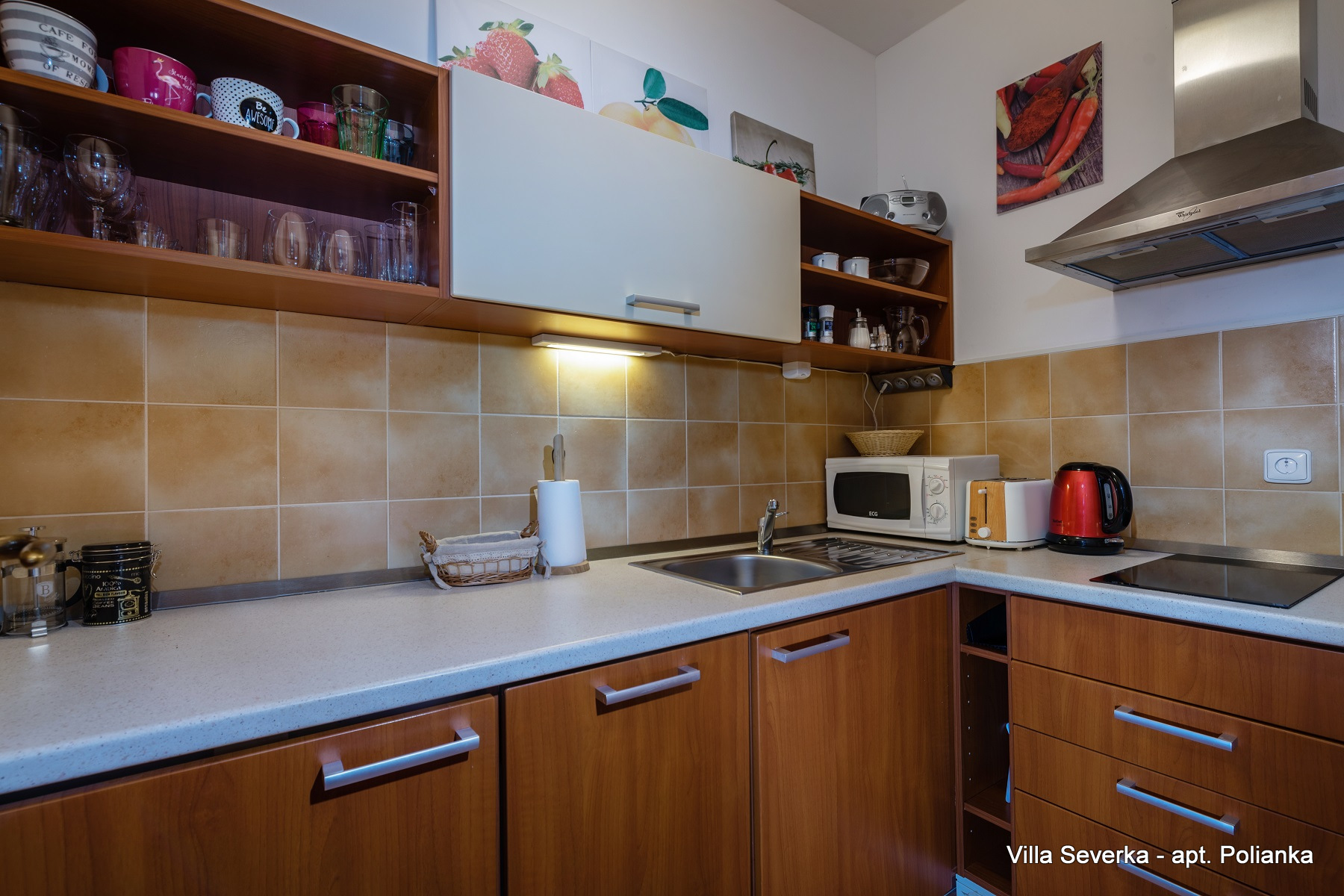 apartment Palace:
Is the most comfortable that Villa Severka has to offer. Two-storey apartment and orientation to the south and north with a breathtaking view of the 3 dominant peaks of Starý Smokovec - Slavkovský štít, Lomnický štít and Gerlachovský štít. The Palace Apartment is a symbol of comfort and above-standard, which everyone deserves. Located on the 2nd floor and has an area of 110 m2: spacious living room, kitchen with bar counter, 2 bathrooms, 2 bedrooms upstairs. The apartment is designed for 4 to 8 people.
FOOD
Each apartment has its own, fully equipped kitchenette. If you are interested, it is also possible to book breakfast at the Atrium Hotel.
Accommodation
Accommodation type
Location
More activities
Informations